Photo: Allie Sherlock YouTube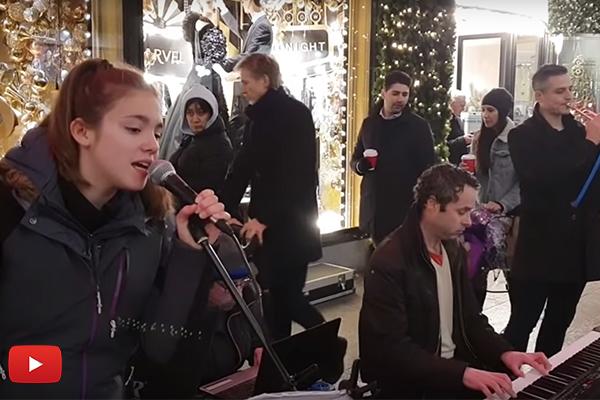 Allie Sherlock performs John Manner's new Christmas carol "Gabriel, How Can This Be?" in the streets of Dublin.
A New Christmas Carol
Marian Helper John Manners from Dublin, Ireland, shares a new Christmas carol he has composed entitled "Gabriel, How Can This Be?" He shares the inspiration behind this new hymn:

I am a music composer working here in Dublin, and have been involved in providing music for my local parish churches here in Dublin City for a number of years — The Church of the Holy Cross in Dundrum, and St. John the Evangelist in Ballinteer. I play the church organ, the piano, and the uilleann pipes.

I recently composed this new Christmas carol, entitled "Gabriel, How Can This Be?" It was recorded earlier this month on Dublin's Grafton Street. It is sung by Allie Sherlock, an exceptionally talented 13-year-old girl from Cork, a city in the south of Ireland.




I wrote it by closely reading the Scriptures from the Latin Vulgate, An Bíobla Naofa (the Irish translation), and the King James Bible, in an attempt to get as close to the original Greek as possible. I have a degree in Latin and am a native Irish (Gaelic) speaker.

Below are the lyrics. As you can see, it opens with the pivotal moment in Mary's life where she is informed by Gabriel of God's plan for her.

My main objective was to try and tell the story of the Nativity such that it would be understandable to a child. Too often the words of hymns are just too abstract for children to understand. In doing so, I think I have brought some humanity to the dilemmas Mary and Joseph face in preparing for the birth of Jesus. Mary's questions are the central element.


Verse 1:
Gabriel, how can this be?
Please, please explain to me.
Mary, the power of god
Will overshadow you. Fear not.
You will bear a son,
The holy and sacred one.
His father rules above.
Jesus be his name!
Eternal be his reign!

Verse 2:
Joseph, where will we rest,
Here in Bethlehem tonight?
Mary, no rooms to let,
And no one cares to help our plight.
But over yonder see
A stable and a manger free,
And where at ease you'll be.
A star is shining bright!
This will be our light!

Verse 3:
Joseph, what is that noise?
Baby Jesus sleeps still.
Mary, the shepherd boys
Have run with bells from down the hill,
And who they are I'll ask.
Please tell me your story lads.
I wonder why so glad?

Chorus:
Joseph, we're just boys.
Christ the Savior's born!
Angels us informed.
Then they sang: "Fa la la la low fa la la la lay!"
Our new festival chime,
Evermore sung at Christmas time!