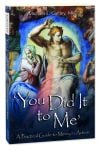 "In You Did It to Me, Fr. Michael Gaitley [... Read more
$14.95
Buy Now
Marked By Love — Episode 14 "Love never ends"
Join Fr. Thaddaeus Lancton, MIC, on a journey of discovering the depths of what it means to be a Christian, marked by love, in the spirit of St. Paul's 1 Cor 13.

Today Fr. Thaddaeus concludes his series presenting on 1 Cor 13:8-13.


Love never ends; as for prophecies, they will pass away; as for tongues, they will cease; as for knowledge, it will pass away. For our knowledge is imperfect and our prophecy is imperfect; but when the perfect comes, the imperfect will pass away. When I was a child, I spoke like a child, I thought like a child, I reasoned like a child; when I became a man, I gave up childish ways. For now we see in a mirror dimly, but then face to face. Now I know in part; then I shall understand fully, even as I have been fully understood. So faith, hope, love abide, these three; but the greatest of these is love.


See more of Fr. Thaddaeus' talks and homilies on his blog.