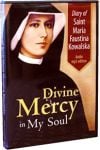 This new release replaces the original 27 CD set r... Read more
$24.95
Buy Now
Marked By Love — Episode 4: "... I Am Nothing." (1 Cor 13:2-3)
Join Fr. Thaddaeus Lancton, MIC, on a journey of discovering the depths of what it means to be a Christian, marked by love, in the spirit of St. Paul's 1 Cor 13.

Today's video is on 1 Cor 13:2-3 - "And if I have prophetic powers, and understand all mysteries and all knowledge, and if I have all faith, so as to move mountains, but have not love, I am nothing. If I give away all I have, and if I deliver my body to boast, but have not love, I gain nothing."




For more talks and homilies by Fr. Thaddaeus check out his blog.