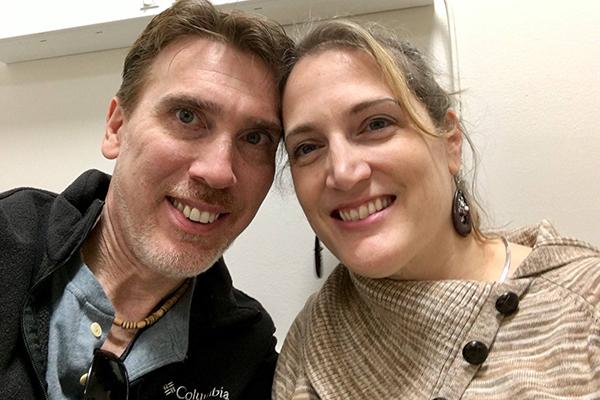 Suzanne, with her husband, Dale.
Rest in Peace, Suzanne
Suzanne, with her granddaughter, Kyra.
The Zavatters at Sydney's wedding earlier this year.
Suzanne remained an anchor of hope for family and friends throughout her illness.
Father Chris Alar, MIC, administered the Anointing of the Sick to Suzanne earlier this year. "Suzanne's strength and faith has inspired all of us here at the Center," he said.
Please join us in prayer for the repose of the soul of our dear friend and colleague here at the Marian Helpers Center, Suzanne Zavatter. Suzanne, 49, died Sunday evening, Sept. 30.

"She passed very peacefully and was surrounded by friends and family after a long struggle with cancer," said Fr. Chris Alar, MIC, director of the Association of Marian Helpers. "Suzanne was a huge inspiration for all of us."

Our prayers go out to Suzanne's family as well, including her husband, Dale, a staff member here at the center; her children, Brittany, Sydney, and Giordan; and grandchildren, Kyra and George Hamilton.

Funeral arrangements haven't been finalized yet.

Suzanne's faith guided her through her illness. She said, "and as bad as it is, it has come with some gifts. I take joy in everyday — every person, every sight, and every sound — so much so it almost brings me to tears. I am grateful for this feeling. The road ahead will be long but not as long as others who have traveled this road and I am grateful for that as well. During my up days and my down days — I want to look back and remember what I went through and how many beautiful people have helped me to reach the other side."

In the following article, first published on Feb. 10 in The Berkshire Eagle, Suzanne shared what it's like being a person of faith with a terminal illness, surrounded by a caring community:
+ + +
Zavatters get `out-niced'

PITTSFIELD — She calls them the "great, terrible things," and they're mounting up these days.

Numbered upon them was the recent day in which she visited Henry at Berkshire Hills Country Club to plan her daughter's upcoming wedding. That same day, she visited Rob at Dwyer Funeral Home to plan her own funeral.

Suzanne Zavatter, 48, defines the great, terrible things as the beautiful moments that engulf wondrous sorrow. Like the fact that she and a childhood friend of hers both have terminal cancer.

"It's not great that a childhood friend of mine is also dying of cancer," she says, "but it's beautiful that we are going through this together."

Suzanne was diagnosed with breast cancer in December 2015. Following a double mastectomy and chemotherapy, she was told she had a 75 percent chance she would remain cancer free, but last September she felt a lump on her neck. The cancer has returned — to her chest, clavicle and brain.

The focus of an enormous benefit concert two weeks ago at Tavern at the A in Pittsfield — another great, terrible thing — she was recently told to "get her things in order."

There's no pamphlet explaining how one is to get one's things in order. No step-by-step guide.

But something occurred back in 2015, when Suzanne was first diagnosed, that has shaped her response and defined her life from here on out.

One particular morning she was doubting God's existence, wondering if maybe faith in God is just a coping mechanism. She prayed for a sign that God is real. That very afternoon a package was delivered to her doorstep. It was a sign — a literal sign about 4-feet wide, sent from her husband's godfather in Alabama. It read "BELIEVE." That took care of that. She stopped questioning, and every day brings fresh proof for her that God is real and he has a plan.

Lately, she and many others are, as she puts it, "being very bold" in praying for her physical healing. It doesn't hurt that she works for the Marian Fathers in Stockbridge who also have been praying daily for her healing.

As for her family, that includes Dale and their three children and two grandchildren.

She and Dale first met when they were 16. They went on a blind date, set up by mutual friends. The night before the date, Dale took a crash course in learning how to drive a stick shift so that he could pick Suzanne up in style — in his friend's Toyota SR5, which was black with a white stripe down the middle. The car was dubbed "The Skunk."

He took her to Burger King. Though he stalled the engine a few times on East Street, all went well enough that they fell in love and now marvel in the midst of her cancer of how beautiful their lives have been together.

In the process of putting her things in order, Suzanne is experiencing the great, terrible irony that, in learning how to die, one can also learn how to live.

"It forces you to live each day with so much more appreciation and gratefulness," she says.

For instance, she can look at the time she spends in chemotherapy at Berkshire Medical Center's Infusion Center as "awesome," because she is accompanied by her sister or mother.

"Plus," she says laughing, "it's a gorgeous view there. The people are nice. The chairs are comfortable — they have vibrating mode and heat. It's like a spa day. I feel like a chemo princess."

She can look with amusement at that day she spent planning both a wedding and funeral. Her children, however, are not quite there yet. Her daughters, Brittany and Sydney, consider their mom their best friend. They're struggling — as is their youngest, Giordan, 13, who at first expressed anger at the doctors.

"We talked about things," Suzanne says. "I told him I don't want to waste any moments. I don't want to focus on being angry about this. I want to embrace every moment I can. The next day, it was he who reminded me of that. I was annoyed with something trivial, and he said, `Mom, we can't waste any moments.' My heart melted."

Doctors say that patients with Suzanne's form of aggressive cancer can live on average two years. The aim with the chemotherapy is to keep her alive as long as they can.

Her goal is to make it to Sydney's wedding, originally planned for December but since moved up.

"I want to dance at my daughter's wedding, and then after that I'll set another goal," she says.

While she prays for a miracle healing, she says she's already witnessed many miracles already in the return to faith of many family members and friends.

That includes some of the more than 500 people who attended the benefit concert for Suzanne on Sunday, Jan. 28, at the A. The 11-plus hour benefit featured raffle prizes donated from businesses throughout the county and nearly a dozen bands, including Dale's own Whiskey City, for whom he serves as bassist.

The place was packed all day long. People wore T-shirts with Suzanne's image on it and emblazoned with the words "Team Zavatter." The band F-Bomb even played the Zavatters' theme song these days, Journey's "Don't Stop Believin'."

"It was all embarrassing and overwhelmingly uncomfortable," Dale says with a laugh. "But it was beautiful and we're so, so grateful to everyone."

"The people in Berkshire County have been so amazing and there's no way for me to express how thankful I am for everyone's thoughts and prayers," Suzanne says.

The two have had a long-running joke that they never like to be "out-niced" by others.

"We got totally out-niced," says Dale. "We sit in bed at night and say how blessed we are. How did our lives turn out this great?"

+ + +

In this video below, filmed in 2013, two years before she was diagnosed with breast cancer, Suzanne shares her favorite passage from the Diary of Saint Maria Faustina Kowalska:



Rest in peace, Suzanne.