Follow the path of Faustina on her journey to sainthood! Discover new details... Read more
$19.95
Buy Now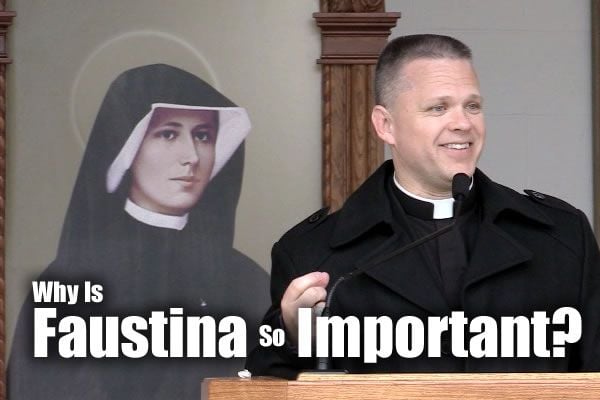 Why Is Faustina So Important?
On Oct. 5, dozens of pilgrims gathered at the Mother of Mercy Outdoor Shrine to celebrate St. Faustina, a saint of extremely humble beginnings. Father Chris Alar, MIC, the director of the Association of Marian Helpers, gave a talk that highlighted St. Faustina's life before she became a revered saint.

"First of all, St. Faustina's life was in many ways dull. It was average. It was ordinary. But is that surprising? No. Because that's exactly the person that Jesus or God always works through."



Born Helena Kowalska, the third of ten children in a poor family from Glogowiec, Poland, she began working to support her family at a very young age.


"She was so poor that she had to share a dress to wear to Mass with her sisters," Fr. Chris said. "So they took turns, dressing for Mass every five weeks."

At seven years of age, she felt a calling to the religious life while attending the Exposition of the Blessed Sacrament. When she finished school, she wanted to enter the convent, but her parents needed her to work as a housekeeper and nanny to support her family.

But she couldn't ignore the call forever. In 1925, Helena Kowalska flew to Warsaw and approached several convents, asking them to consider her. She was rejected by all but one because she lacked both a dowry and an education. On August 1, 1925, she applied to the Congregation of the Sisters of Our Lady of Mercy. She was accepted on two conditions. First, that she work as a housekeeper for a large family near Warsaw to cover the expenses. Secondly, that she be a member of the second choir—the choir reserved for the poor and less educated convent members that was responsible for cleaning, cooking, and gardening.

On 30 April 1926,at 20 years old, Helena received her habit and took the name Sister Maria Faustina. Faustina means the "fortunate one or blessed one."

Jim and Deb Joy of St. Catherine's Parish is Hudson, New Hampshire chose to celebrate St. Faustina's Feast Day at the Shrine as a part of Joy's birthday celebration. They were surprised St. Faustina, who is known for her steadfast serenity, struggled throughout her life.

"I didn't realize she faced so many obstacles to give her life to God," Jim said. "She had such happiness, and such a devotion to others, despite all of her suffering."
During his talk, Fr. Chris also explained the Divine Mercy message, which St. Faustina was entrusted to share with the world after Christ first appeared to her in 1931.

"Divine Mercy is not just a devotion, it's both a message and a devotion," Fr. Chris said. "It's interesting because people don't necessarily refer to the same thing when they're talking about it. The Divine Mercy message is the heart of the Gospel. It's Christ himself."

Fr. Chris then said The Divine Mercy message is one we can call to mind simply by remembering "ABC:"
" 'A' stands for ask for God's mercy. God wants us to approach him in prayer constantly, repenting of our sins and asking him to pour his mercy out upon us and upon the whole world.

B stands for be merciful. God wants us to receive his mercy and let it flow through us to others. Forgive and love your enemy. Jesus told St. Faustina that we most resemble him when we forgive others.

And finally, C stands for completely trust in Jesus," Fr. Chris said, while pointing to the Divine Mercy Image above the altar. "God wants us to know that the graces of his mercy are dependent upon our trust. The more we trust in Jesus, the more we will receive."

Deacon Bob Digan also spoke at the event. His wife, Maureen, experienced a miracle that supported the Beatification of St. Faustina in 1993. Maureen had undergone more than 50 operations for lymphedema, an incurable condition in which excess fluid collects in tissue and causes swelling. In 1981, she went to the tomb of St. Faustina in Poland with her husband and their son, Bobby, who was also ill. She asked St. Faustina to heal them, and that night, the swelling in her leg was visibly better and their son experienced improvements as well.
When she returned to the United States, five doctors examined her independently and concluded she'd been healed. The Sacred Congregation for the Causes of Saints examined the accumulated evidence along with teams of theologians, cardinals and bishops. Her cure was accepted as a miracle caused through Sr. Faustina's intercession to The Divine Mercy.

Jessica Roemischer, internationally acclaimed pianist and guest author, preformed several musical pieces at the event, including, "Amazing Grace." She also spoke about her book, In Duet with God, a book she said she wrote at the Holy Family Shrine at the National Shrine of The Divine Mercy. Her book was inspired by her relationship with a woman named Flora, her nanny when she was a child, who Jessica calls "the saint in her life."

"Growing up with a saint, you never realize you're a sinner, because the saint makes the light seem that much brighter," Jessica said.