In this time of calamity, the Marian Fathers invite you to participate in a simple but incredibly powerful act of faith. To protect you and your family, we urge you to post an Image of the Divine Mercy on your front doors. Father Chris Alar, MIC, explains why.
Father Chris Alar, MIC, was recently on EWTN to share about his upcoming book. Check out this short video to learn more.
Pope Francis called mercy the "beating heart of the Gospel." Saint John Vianney's heart was at the National Shrine for Divine Mercy Sunday. What a God-incidence!
With distinguished guests and journalists from around the world on hand, the Vatican played host to the premiere of the feature-length film "Love and Mercy," a docudrama on St. Faustina and her Divine Mercy revelations.
A new feature-length docudrama about Divine Mercy called "Love & Mercy" is planned for a worldwide release this Divine Mercy Sunday, April 28. We sat down with the director and producer Michael Kondrat, to learn more about this special project.
The Divine Mercy Image makes a grand appearance at the annual March for Life.
Father Gabriel Cillo, MIC, shares how God's mercy surrounds us, and is within us, in many awesome ways.
God reached into Fr. Gabriel's life as a young adult and brought him forth into God's mercy and love.
Fortunately, a friend saw that this physician of the body needed some medicine for the soul and gave him a copy of a book many Catholics in the U.S. would eventually come to know and love: the Diary of Saint Maria Faustina Kowalska.
Three Latino pilgrims shared their stories of faith, healing, and mercy, at this year's Encuentro Latino celebration. See their full testimonies here, along with a homily from the day by Fr. Dante Agüero, MIC.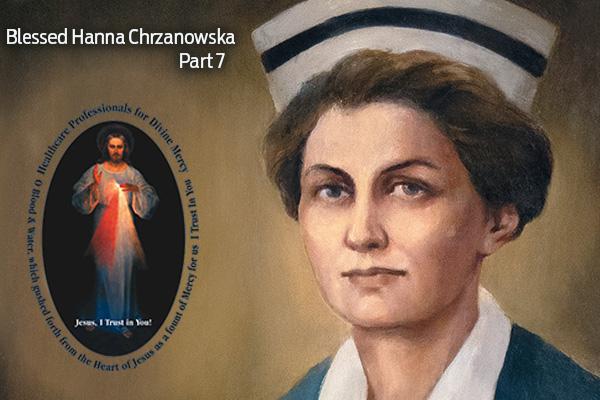 She knew that her vocation was a call to holiness.
Blessed Hanna Chrzanowska knew how important her work as a nurse was, and how it affected her soul.
Blessed Hanna Chrzanowska was not at peace with only caring for people's bodies — she wanted to care for their souls as well.
Blessed Hanna Chrzanowska revolutionized what it means to nurse with the hands of Jesus.
Blessed Hanna is the first person from St. John Paul II's close "circle of friends" to be beatified. Learn more about their friendship here.
Next Page | Last Page